It's been an eventful summer so far in terms of my cooking adventures.  I've had some wonderful opportunities, all of which I am immensely grateful for.  Each time I get the chance to share a recipe, travel to a new state, and to meet new people, I learn and grow not just in my cooking craft, but as a person.   I get to share those experiences with Chad and the kids, and it's nourished our closeness as a family and widened my kids' perspectives of life and the world in general. My cooking and photography are the hobbies that always give back, in ways much more profound that I would ever have predicted.
As exciting as all the things I've done have been, once in a while a cooking contest comes along that stands out above the rest, and the opportunity is so great, I just know I have to give it everything I've got.
The Summer Pot Luck Contest by Recipe Lion is one such contest.   The concept was to enter a dish perfect for potlucks that is not only a crowd pleaser, but is simple and easy enough for busy readers to want to make and serve.

I entered my Strawberry Lemonade Bars, and was ecstatic to learn that I am a TOP TEN FINALIST!  Thank you Recipe Lion!
If I were to win this contest, I would get to fly to Chicago to cook with Food Network Star contestant Addie Gundry!  Are you kidding me now?  How amazing would that be?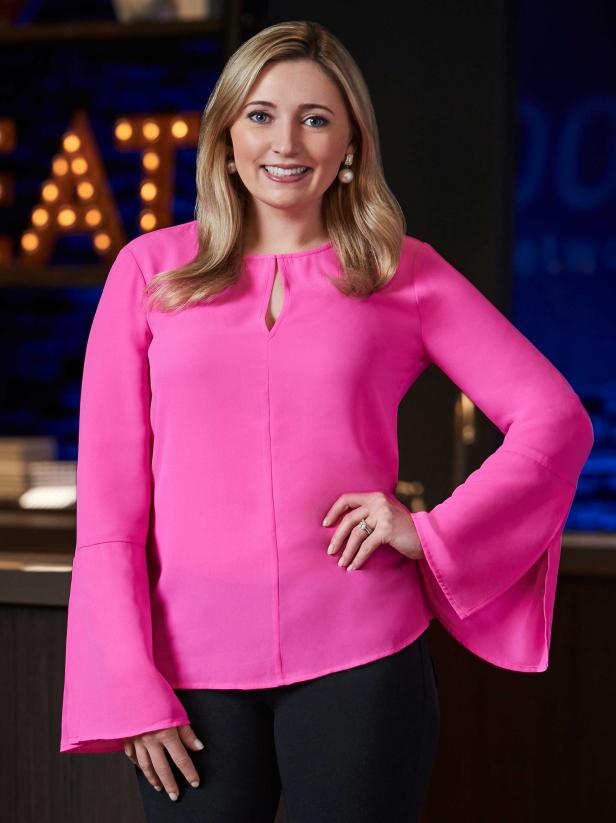 I DO NEED YOUR HELP TO WIN!  Please cast your vote daily for my recipe at Recipe Lion once a day until 7/31.  You could make my cooking dream a reality.
The inspiration for these cute and delicious bars comes from my late Grandmother.  My kids called her "Candy Grandma", because she was famous for her delectable desserts, so expertly made in a kitchen no bigger than a matchbox.  She was known for her lemon flavored confections.  I particularly loved her lemon petits fours.  They were light, tender, and so full of piquant lemon flavor, they make my mouth water just to think about them.  Each time she made them, the smell of sugar and citrus just hung in the air like delicate lace.   I miss her dearly, but cooking and baking things that remind me of her keeps her memory vivid in my mind.
I got my zest for feeding crowds from my Grandma too.  She was the queen of the sheet pan, filling them to the brims with treats for every family gathering we ever had.  She made the food for my wedding…the 100 guest event that could feed a thousand.  It's a family trait to want to nourish people, to feed their stomachs and hearts too.
Grandma's petits fours were beautiful and delicious, but I would not describe them as easy.  My Strawberry Lemonade Bars on the other hand, are a cinch. They are full of vibrant lemon flavor, hints of strawberry, and are made in a simple sheet pan with a few ingredients.   The simple frosting strawberry decal on the top makes them irresistibly cute and festive.  Better yet, it doesn't take an expert hand to pipe on that bright little berry…it's simplicity at its best.  It's a recipe I'm always proud to serve and there's never a single one left.  I'm so pleased that the folks at Recipe Lion  feel that my recipe would be of value to their readers.
Please see the printable below for your copy of my recipe!
While I'm here, I thought I'd share a couple the fun adventures with you that I mentioned earlier.  I'm not as good at putting them down on paper as I should be.  I'm always onto the next adventure before I can take a breath.
In April, I got the chance to cook with nine other finalists at The National Cornbread Festival.  I packed up the family and we headed out to South Pittsburgh, Tennessee for a weekend of fun and food.  It was an unforgettable experience.  I even got to meet the executives of Lodge Cast Iron and tour their manufacturing facility.
Here's the Steak and Egg Cornbread Dutch Baby I made at the festival:
In June, I got to travel to Manhattan Kansas as one of eight finalists in The National Festival of Breads.  What an honor it was to compete with some of the best home bakers in the country!  I made so many new friends.
This is my bread called Butternut Romesco Braid that I baked three times at the festival that day:
In about ten days from now, I'll be competing as one of ten finalists at The Gilroy Garlic Festival.  We've been told that a Food Network special will be made about the event, so maybe I'll get my debut…even if they only show me for a minute.  I hope my hair somehow looks good in the 90 degree California heat.  No pressure there at all.  
Thanks for sharing some of my great cooking memories with me and please vote for my recipe!  I appreciate every bit of support sent my way, I truly do!
Ingredients
For the bars:
1/2 stick butter, melted
1 box store bought lemon flavored cake mix
1 large egg
1/3 Cup strawberry jam
2 Tablespoons half & half
1 Cup white chocolate chips
For the frosting:
1 stick butter, room temperature
4 ounces whipped cream cheese
3 Cups powdered sugar
2 Tablespoons half & half
1/4 cup strawberry jam
food coloring (red and green)
Instructions
Preheat oven to 350 degrees. Brush an 8 X 12 inch rimmed baking sheet with 1 tablespoon of the melted butter, then line with parchment paper.
In a large bowl, mix together the remaining melted butter, cake mix, egg, strawberry jam, and half and half. Add the white chocolate chips and stir just to combine. The mixture will be very thick.
Spread the mixture evenly onto the parchment lined baking sheet. Use the back of a spoon to push the mixture around and into the corners of the pan. Smooth out evenly.
Bake for 30 minutes, then remove and let cool completely.
To make the frosting, place the butter and cream cheese into the bowl of a stand mixer. Whip until fluffy. Add the powdered sugar 1/2 cup at a time until it's all incorporated, adding the half & half as you go.
Before adding the strawberry jam to the frosting, remove two, 1/4 cup portions of the frosting and place into two separate bowls. Add red food coloring to one bowl, and green to the other. Mix each color thoroughly, then place into zip top bags.
Add the strawberry jam to the frosting left in the mixer bowl along with a couple of drops of red food coloring. Whip until thoroughly mixed. Spread the strawberry frosting evenly onto the cooled bars.
Lift the bars from the baking sheet. Cut into 12 squares.
Snip a small hole into the corner of each bag of tinted frosting. With the red frosting, pipe an upside down triangle onto the center of each bar to make a strawberry. Then, pipe three lines onto the top of each berry with the green frosting to make stems.
Place the bars onto a platter for serving.
http://haveyourselfatime.com/strawberry-lemonade-bars/